English classes
TIRC is very successfully running basic conversation English classes; advanced English classes and one to one English Classes.  This is the core of TIRC's work and central to their support of integration of service users as without the language integration is very difficult.  Regular English classes are held in the centre on Mondays, Wednesdays and Thursdays and are taught at two levels: Beginners and Intermediate. The Beginners classes are from 2-3pm and the Intermediate classes take place from 12-1pm. The two levels are divided between three teachers: Anne MacKenzie, Noreen Kavanagh and Jill Murphy, each taking the intermediate and beginners' classes for one day a week.
"They come through the door with only a few words of English but when they come to our class everyday and with the assistance and help of our volunteers, you can see a remarkable improvement over a short space of time".
International Friends Group
This is a group that meets every Thursday evening at TIRC from 7-9pm.
The main objective of the group is to address a number of the issues surrounding the men living in the Direct Provision centre, Atlas House. TIRC provides a place for all members to gather, socialise, integrate and discuss/voice any concerns or issues they may be facing. The members of the group are made up of the international community in Tralee i.e. asylum seekers, refugees, African, Mid-eastern, Asian, South American, Europeans and the local Irish Community. The group helps integrate the international community into the local one here in Tralee.
The International Friends Group takes place the whole year round. The favourite activity of the group is cooking! They have gone on many memorable outings, including hiking up Torc mountain, wall climbing in Dingle, and surfing in Banna to name a few!
Mindfulness
The Mindfulness course was delivered over the past year on an ongoing basis of 8 week one hour courses and a day of mindfulness at the end of the year.  The course leader is Cristina Aguilera. Mindfulness is defined as the awakening to the present moment.  To achieve this awareness, the students were introduced to a set of basic practices such as breathing, body scan, mediation, walking, singing, eating, listening and speaking in mindfulness with the invitation of the bell.
Guitar classes
Guitar classes for young people and adults take place from October to end of March each year with volunteer teacher Dave Rath.  The dedicated students made tremendous progress over the months, and it is great to see integration through music.
TIRC Craft group
TIRC Craft Group is a very successful, busy and creative group. It provides a welcoming, creative and social space for international and local people. Their activities for the year include – knitting, crochet, card making, table centrepiece arranging, cross-stitch, embroidery, Tunisian crochet, jewellery making, Easter & Christmas decorating, sugar paste icing, quilting and art painting. The group have exhibited their painting work in the County Library.
Calendar of Events, Classes & Activities
1
2
3
4
5
6
7
8
9
10
11
12
13
14
15
16
17
18
19
20
21
22
23
24
25
26
27
28
29
30
31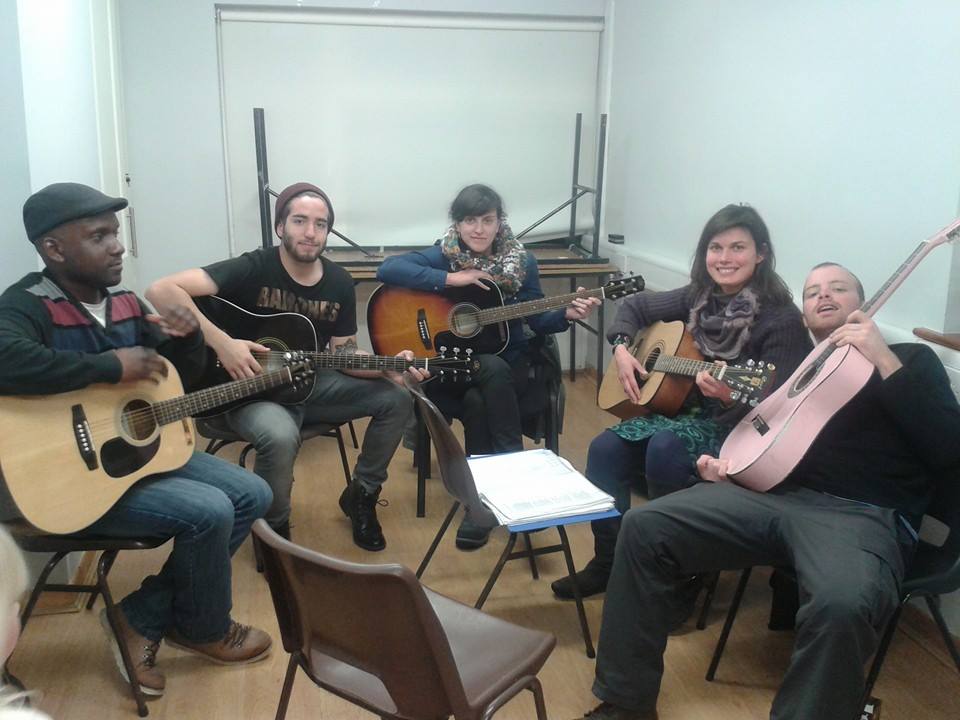 Activities and Events
TIRC regularly organise training courses and workshops to respond to the needs of our service users these include a transition programme for people leaving Direct Provision to help them settle in the community, Sexual Health training, Employment workshops, Mental Health workshops and many more.
We organise and participate in many intercultural events including marking International Women's Day (March 8th), St Patricks Day (March 17th ), Africa Day (May 25th); World Refugee Day (June 20th), Eid, which we organise in partnership with Kerry Islamic Outreach Society, and also a Christmas party for all the children in Direct Provision.